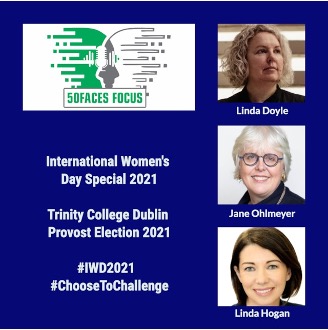 This special FiftyFaces Focus series showcases the three candidates for the upcoming provost election at Trinity College Dublin, due to be held in April 2021. The Provost is the Chief Officer of the university responsible to the Board and ultimately to the State for the performance of the university. This historic election will see the first female provost in the institutions 429 year history.
We are delighted to present interviews with each of the three candidates, in this very special series, which we are launching to coincide with International Women's Day.
First we hear from Linda Hogan, Chair of Ecumenics at Trinity College who shares her vision for a post-pandemic institution.
We then hear from Linda Doyle, who is Professor of Engineering and the Arts at Trinity College Dublin and a Fellow of the College. She draws upon her roots in engineering and the arts to re-imagine the institution.
We then turn to Jane Ohlmeyer, who is the Erasmus Smith's Professor of Modern History at Trinity College Dublin and Chair of the Irish Research Council. She discusses her vision for change that embraces academic freedom and a climate proof and future proof curriculum.
Please refer to the Trinity College website for further information on the provost election as well as links to the campaign page of each of the candidates. While the electorate is a limited one, made up primarily of full-time members of academic staff, the vision and plans of the future provost – who will hold her position for 10 years – have implications for the entire student body, alumni and the academic community as a whole.
We wish to thank DLA Piper Ireland and Hermes Fund ManagersIreland Limited for providing production support to this series. All views expressed are personal to the participants.