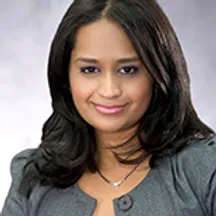 NEW
Sonali Patel Wilson is Managing Director and Director of Alternatives, Americas at Wellington Management where she is based in the New York City area. She sits on the investment committee of the Harry and Jeanette Foundation in Baltimore and she is the trustee of EWAAB Encouraging Women Across All Borders, which helps college aged women and non-binary individuals build their confidence to enter STEM and finance fields. She previously held various positions at PIMCO focused on account management in the alternatives area and has held various investor relations and analyst roles.
Our conversation traces Sonali's roots and the path her parents took as immigrants from India as well as the entrepreneurship and sacrifice that served as the backdrop to her childhood. The entrepreneurship journey took them from lobby convenience store stands to real estate and the focus was on studying and academic achievement and, always, hard work.
We move then to her journey into investment and finance and how she found her voice and style in developing a network and some of the surprising turns that that journey took. This discussion infuses Sonali's personal and professional lives, in which she followed a tradition of "breaking with tradition" in her own choice of life partner, and this has given her a new appreciation for diversity and inclusion.
Sonali has numerous interests that are close to her heart and many of them relate to STEM and finance and getting those areas more diverse. In particular her work with EWAAB (Encouraging Women Across All Borders) is impactful in this respect and we discuss what drives her to do more in this area.
Series 3 of the 2023 Fiftyfaces Podcast is supported by Eagle Point Credit Management. Eagle Point Credit Management is a specialist investment manager principally focused on income-oriented credit investments in niche and inefficient markets. Founded by Thomas Majewski in partnership with Stone Point Capital in 2012, Eagle Point currently manages over $7.8 billion in AUM. Investment strategies pursued by the firm include collateralized loan obligations ("CLOs"), portfolio debt securities, and other opportunities across the credit universe. Currently, they believe that Eagle Point is the largest investor in CLO equity in the world and one of the largest non-bank lenders focused on providing financing solutions to credit funds. Learn more about Eagle Point at http://eaglepointcredit.com/