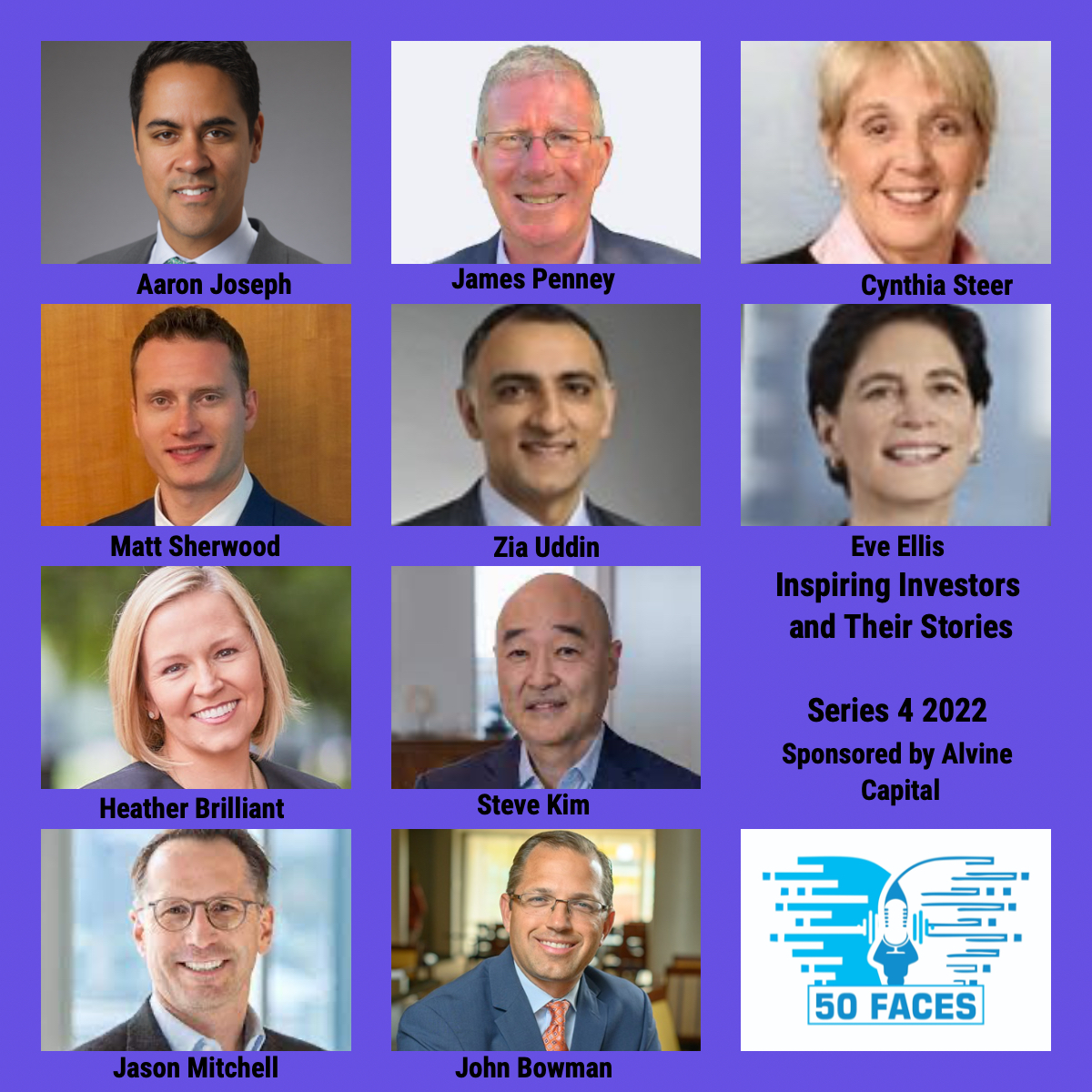 NEW
In our summer Series 4 of the 2022 Fiftyfaces Podcast we invite you to see our industry through fresh eyes through hearing the stories of 10 extraordinary professionals.  We hear of the training and perspective obtained through playing tennis at a professional level, challenging ice-skating routines and practicing the ancient Japanese martial art of Kendo.  We hear about formative life experiences, such as mission-work in a violence-rocked Latin America as well as the challenges of becoming legally blind early in one's career.
We hear about life's setbacks, and how we rarely see the failures or false starts that end up on the cutting room floor, and about the importance of breadth v. depth as well as the importance of nurturing the variance in life as well as investing.
So take time during your summer road trip or plane journey to recharge and arrive inspired.  Hear from these 10 inspiring guests:
James Penney is Chairman of Darwin Alternative Investment Management Ltd, a firm that offers innovative Alpha driven investment solutions for long term investors. He has had a varied background that involved time doing mission-based work in Latin America during his study of theology, he has spent time as an academic and as an consultant before developing his asset management business.  Darwin Alternative Investment Management, through its investment products promotes the dignity of people at every stage of their lives, and is the sponsor of our Next Chapter podcast series.
Heather Brilliant is the President and CEO at Diamond Hill Capital Management, a $30 billion asset manager headquartered in Columbus, Ohio. She previously was Chief Executive Officer Americas at First State Investments, and prior to that was CEO at Morningstar, Australasia, and formerly Global Head of Equity and Credit Research. She's had a career long involvement with CFA Institute globally, and was formerly Chairman of the Board, as well as a Director and Board Member for over seven years.
John Bowman is Executive Vice President of the CAIA Association, and a prolific writer and commentator on the investment management industry. He has written about the subject of culture, restoring the virtuous reputation of the industry and ensuring that dialogue and education are maximized, particularly in the area of alternative investing.
Cynthia Steer has had  a multi-decade career in investment management, spending time as an investment director, CIO and Chief Retirement Strategist at a series of large consulting firms, and she now holds a broad range of investment committee and independent director roles.
Aaron Joseph is Senior Vice President Investor Solutions at Blue Vista Capital Management, a Chicago based real estate investment manager focused in particular on middle market equity, student housing and real estate credit. He previously worked as deputy sustainability officer in the Office of the Mayor in the city of Chicago, and as a Strategy Manager at Urban Partnership Bank focused on providing banking services for impact capital and urban real estate investors.
Eve Ellis is a wealth advisor with William Blair. She has a particular interest in socially responsible and impact investments and manages two proprietary portfolios, a gender parity strategy and a dedicated diversity and inclusion strategy. She is also a member of the Forum for Sustainable and Responsible investment. She has received multiple awards, including featuring on the Crain's New York Women and Financial Advice inaugural list in 2020. And the Forbes America's Top Women Wealth Advisors Best in State.
Zia Uddin is President of Monroe Capital LLC, an asset management firm headquartered in Chicago, which invests in middle market companies in North America through a range of products. Prior to joining Monroe he focused on middle market private equity investing for most of his career. Currently, he sits on a range of private company boards as well as on a public company board.
Jason Mitchell is co-head of responsible investments at Man Group, and the host of a sustainable future podcast at the Man Institute, a podcast that he has hosted since 2018, and has now passed its 55th episode. He writes and speaks widely on sustainability issues, as well as serving on a number of committees such as Esmee Fairbairn Foundation, and World Bank Carbon Pricing Leadership Coalition.
Matt Sherwood, Ph.D. is Co-Founder and Chief Executive Officer of WeVidIt Media, a video streaming platform that leverages data and analytics for a more inclusive and profitable entertainment industry. We met while he worked as an asset allocator, where he headed up public market investments for MMBB Financial Services.  He has spent time as a guest lecturer and an appointed professor at Columbia University and The King's College in New York, and has authored a textbook on the topic of ESG Investing. He is a board member of the Guide Dog Foundation and American Vet Dogs and serves on the Lavelle Fund's Investment Committee.
Steve Kim is a partner in investment strategy and risk management at Verdis Investment Management in the Philadelphia area. He has focused over 30 years in his career in implementing and managing operating infrastructures. Prior to his role at Verdis he held various Chief Technology Officer roles, he now focuses on integrating his insight from systems modeling and data analysis into an investment approach, particularly in the venture capital arena.
All of our podcasts are available on Apple Podcasts, Spotify and all major podcast channels.  You can find all of our content on the Fiftyfaces Hub (fiftyfaceshub.com) including resources and other material to enhance your career.