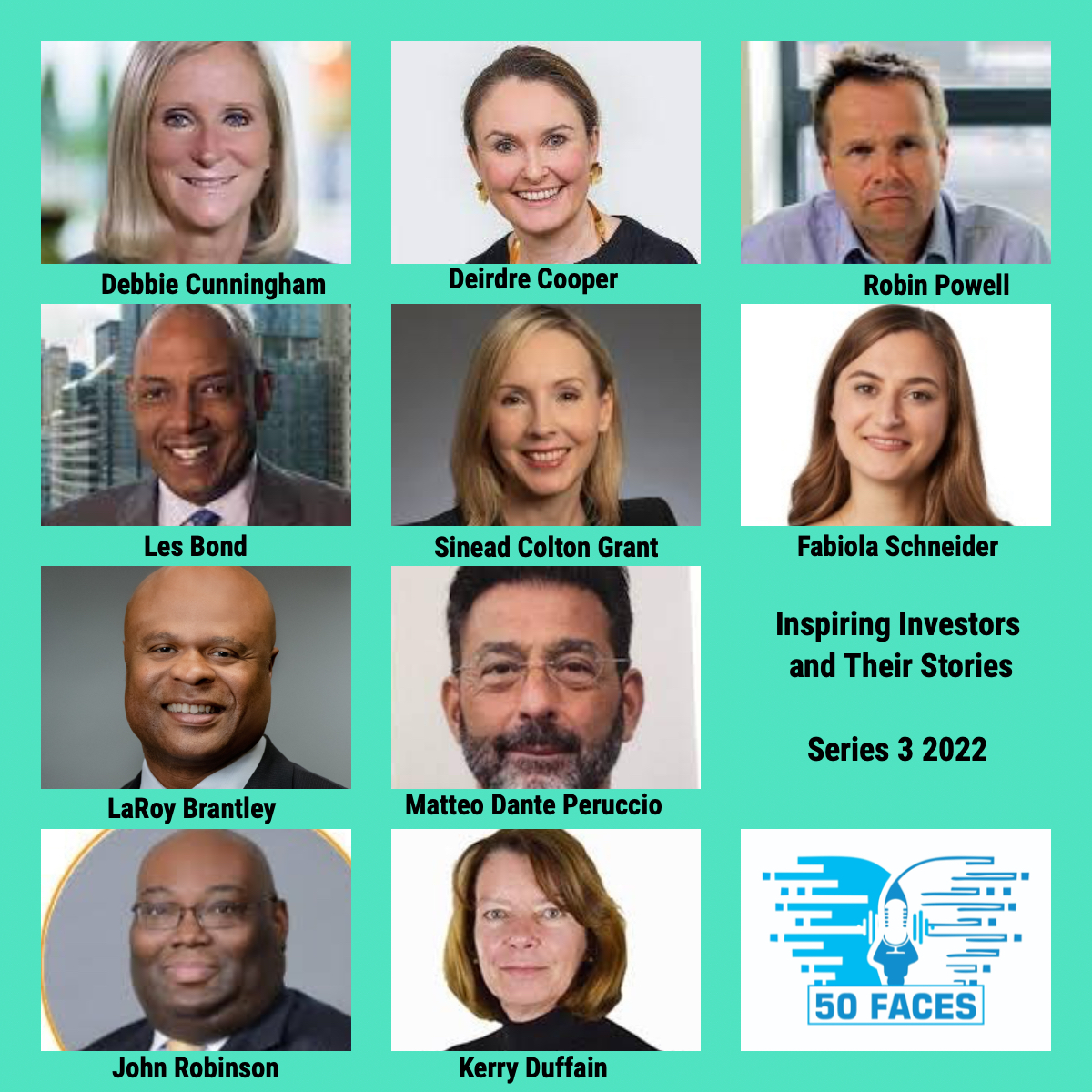 NEW
Welcome back to the Fiftyfaces Podcast where we are delighted to bring you Series 3 of 2022, which features critical thinkers from all walks of life. We hear about the value added of active management, the robustness of sustainable investing terminology, the role of politics in promoting inclusion and economic empowerment and the opportunity in Africa.
First we hear from Debbie Cunningham, who has had a four decade career at Federated Hermes, in a leadership role within fixed income.  Her journey has seen some fascinating changes in the market backdrop, not least of all in the prevailing risk free rate on money market funds.
We then move on to one of the most critical thinkers I know, Robin Powell, UK-based financial journalist and consultant, who presents robust challenges to value added and value for money in actively managed funds.  We might argue that our industry very much needs these questions to be asked, and Robin is certainly not afraid to ask them.
We have more critical thinking as well as some powerful, actionable and relatable examples in the sustainability field in our conversation with Fabiola Schneider, who is active in tracking greenwashing and how sustainable investing is translated into practice.  This podcast is essential listening as a primer on many topics.
John Robinson
takes us on a journey of his start-up career, which has led him now to uncover the opportunity in Africa, while
Sinead Colton Grant
traces her own career path from Ireland to the helm of solutions at a large money manager in the wealth management division.
LaRoy Brantley
is a legend in the consulting field and his own background as a classics major, and then a teacher, may be responsible for the powerful way in which he translates investment ideas for his diverse client base.
We move then to another kind of legend, one of business development, and chat with Kerry Duffain and hear about her extremely varied early career, but how that all laid the groundwork for an extremely persistent streak that lies behind her business building success. Another pathbreaker has been Les Bond, who founded Attucks Asset Management and has supported a vast network of emerging managers.
We return to sustainable equity investing with our conversation with Deirdre Cooper of Ninety One and hear how product proliferation in sustainable investing products is far from the problem it is made out to be.  We end then with a conversation of another mainstay of UK asset management Matteo Dante Peruccio, who has pivoted yet again to another passion – digital assets.  We hear about that thesis, why it is a multi-faceted one and where we go from here.
Series 3 of the 2022 Fiftyfaces Podcast is brought to you with the kind support of Federated Hermes, Inc., a leading global investment manager. Guided by their conviction that responsible investing is the best way to create wealth over the long term, their investment solutions span equity, fixed-income, alternative/private markets, multi-asset and liquidity strategies and a range of separately managed accounts, distributed through intermediaries worldwide.