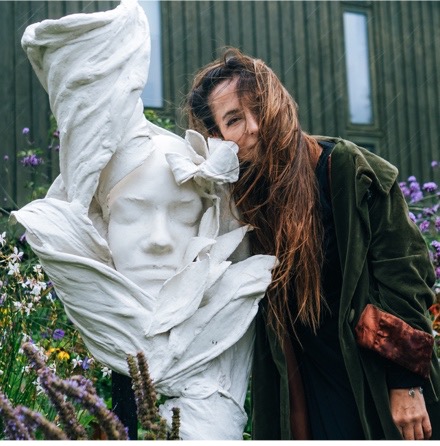 Jasmine Pradissitto is a British artist, academic, scientist, speaker and environmentalist who has a Ph.D. in physics from UCL and has studied art at Goldsmith's and London Met. Her critical practice spans painting and sculpture and she is the only artist in the world licensed to use NOXTEKTM , a newly developed sustainable material that absorbs nitrogen dioxide (NOx) pollution from the air. Jasmine is represented by Gillian Jason Gallery in London, and has exhibited worldwide including most recently two public art projects for the Horniman Museum in London and the Camden People's Theatre for Euston Town Green Bid, a Mayor of London environmental initiative.
Our discussion discusses how once Jasmine learned that she was "allowed" to use her physics background to make art, this unleashed a wave of creativity, particularly around her sculptures, which are designed not only to create awareness of space but also to inspire awareness of the air that we breathe and the blight of urban air pollution.
Jasmine also has a consultancy that delivers creative STEAM subjects to children and teachers. We talk about what STEAM really means, and how it exists all around us in so much of what we do. We also examine the nature of constraints, and how they foster true creativity, and we move to discuss what this means in a post-Covid environment.
Jasmine believes that Artists and Art have an enormous responsibility in presenting a different perspective on the 21st Century Renaissance – we talk about what that means and the creativity that lies inside all of us.
The image shows Jasmine with 'Flower Girl' at The Horniman Museum in London which is a sculpture in NOx absorbing geopolymer NoxTek. Image by Samer Moukarzel Photography
There is more information about Jasmine and her work on the following links: