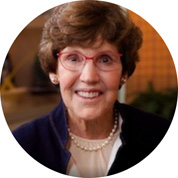 Jan Nicholson is President of two private family foundations, The Nicholson Foundation in NJ and The Grable Foundation in Pittsburgh PA.
She recently retired from a Board Role at MDRC, a non-partisan research organization based in NYC, and has held Board Positions at Rubbermaid, Ball Corporation, and Radian Group, Inc. from 1990 to 2015.
She has an extensive background in finance having worked at Citibank and follow-on firms for 25 years and our conversation tracks how she transitioned from thinking like a banker to thinking like an investor.
Jan shares her experience in investing in emerging markets and lessons learned from investing through the years. She also shares what she brings to her Board and Committee roles and what makes an effective Board and Committee member in her view.