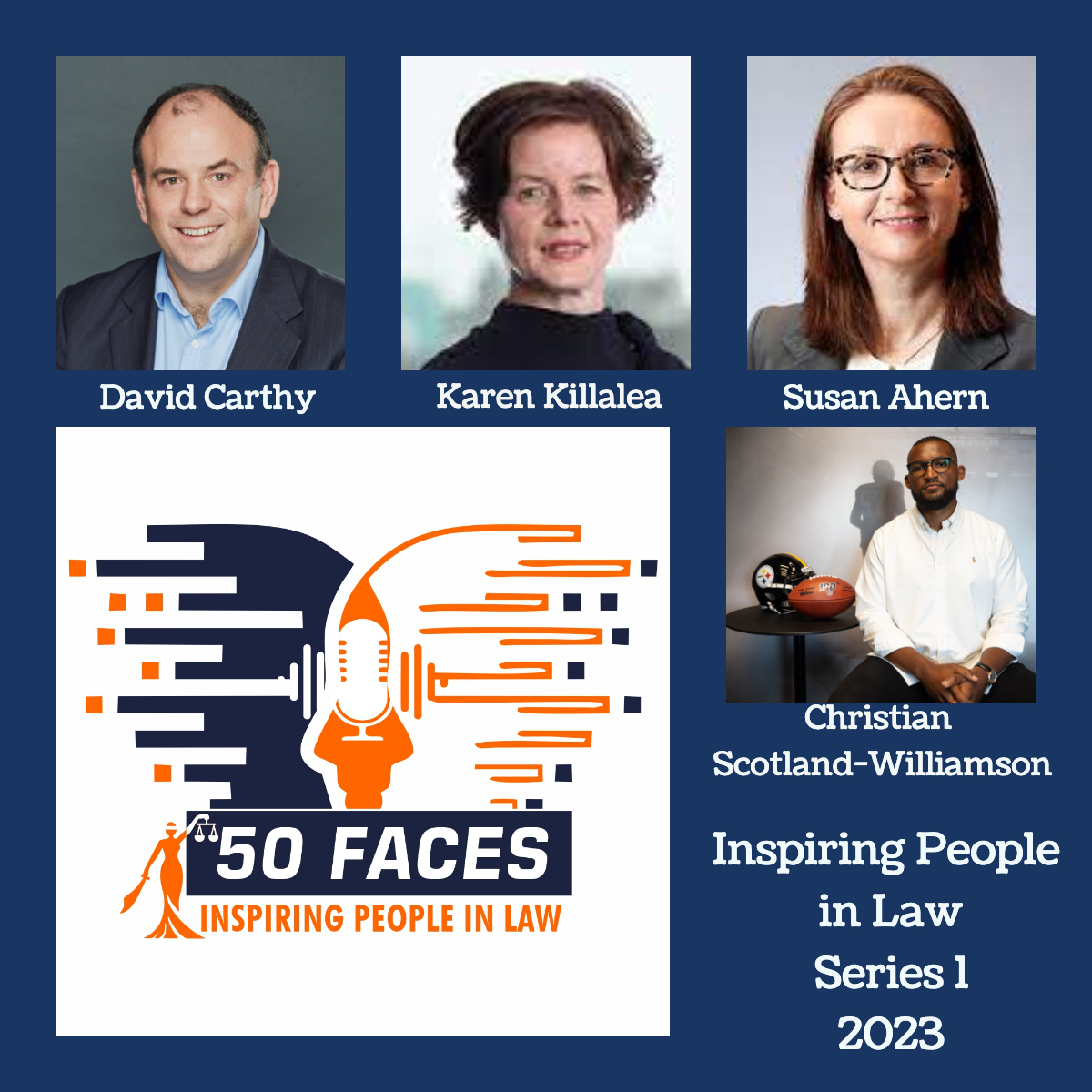 NEW
In our first legal series of 2023 we are delighted to bring together three voices from the Irish legal scene and one from the UK bar.  We discuss the challenge of employment law and its evolution, how to build a branch office of a law firm from scratch through focusing on values, the benefits of professional sport and legal practice and the burgeoning and fast-paced development of the field of Sports law.
We look first a model for building a firm from scratch, by scrupulously focusing on values and being intentional about diversity.  We move from building businesses to the intricate business of navigating employment law, where we meet Karen Killalea, partner of Maples Ireland who infuses this area with enthusiasm as a staging ground for so many of the issues of our time around human capital.
In our discussion of sport we hear from Susan Ahern, an arbitrator and sports law expert  about the explosive of growth of this area and Susan also shares her best practice in arbitration and directorships.
Finally, we move from sports law into the practical world of sport and hear from barrister in training and one-time multi-sport professional Christian Scotland Williamson about the passion he has for teamwork, showing up and delivering his all, thanks to his time playing in the NFL.
The guests of Series 1 of 2023 are:
David Carthy, Managing Partner Ireland of DLA Piper as well as former President of the Irish Exporters Association. He was previously a partner at William Fry in Dublin.  He previously spent over 7 years with the Ireland India Business Association here he spent 5 years as Chairman.
Karen Killalea, Partner and Head of Employment at Maples Group Ireland.  She has over 20 years of experience in advising employers on employment law, disputes, change, compliance and HR best practice.
Susan Ahern, who is a barrister, international arbitrator and accredited mediator with a specialization in sports law and regulation. She is currently Chair of the Sports Law Bar Association of Ireland, and formerly was General Counsel for World Rugby/ Rugby World Cup limited. She has over 25 years experience as an iNED including RTE, World Wheelchair Rugby, UCI Cycling World Championships, Irish Horseracing Regulatory Board and the Residential Tenancies Board.
Christian Scotland Williamson is a two sport athlete who played Premiership rugby at a professional level in the UK, and then moved to the US where he played NFL football with the Pittsburgh Steelers. While playing sport he completed an MSc in International Business and he is currently pursuing a course to become a barrister and is a broadcaster for TalkSport.