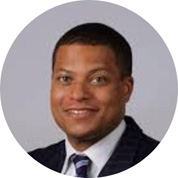 Greg Williams is a business development manager at Wellington Management Company, a Boston-based asset management firm. Greg is based in their Chicago office. Before pivoting to a career in finance he worked as a professional actor, and after business school spent time as an equity research analyst and has long experience in consultative selling and business development.
As an Alum of the Robert Toigo Foundation, Greg has firsthand experience of the impact of the organization on its fellows and now at Wellington he continues to work with Toigo as a corporate partner. Greg is also deeply involved with the National Association of Securities Professionals (NASP), another Wellington corporate partner and is a member of Wellington's Diversity and Inclusion Committee as well as Vice Chair of the Wellington Management Foundation, which supports organizations that are focused on improving educational opportunities for youth from underserved and economically challenged communities. He is also a member of Shades Leadership Team – the Wellington business network focused on employees from Black heritage.
Our conversation traces Greg's upbringing in Cleveland Ohio and his unusual trajectory from a job in acting to business school and on to investing. We discuss the impact that the Toigo Foundation had on his career path, and how he is now committed to passing this on to future generations through his advocacy and interest groups.