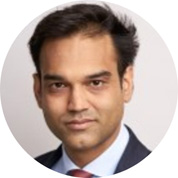 Faisal Rafi is head of research at Riscura, based in London – Riscura is a South Africa-based financial services firm that focuses on providing purpose driven investment solutions for investors as well as investment managers. He previously worked as an investment manager at a UK corporate hedge fund, and prior to that in various asset management and consulting roles. He trained as an actuary.
Our conversation covers Faisal's international upbringing and his professional journey which saw him cycle through both established firms and start-ups, including Clontarf Capital – an alternatives focused research and advisory firm that I set up in 2006. His appetite for emerging markets and for carefully assessing their risk/reward has been present his whole life, and he provides some insights into the case for emerging markets investing and for investing in China in particular.
We look at some lessons learned in his own life – and how he coped with two distinct personal setbacks – a divorce, which prompted him to take time away from work to reset and a cancer diagnosis after which he actually was driven to do work whenever he could between treatments. This experience teaches us that work can be refuge at times when we experience stresses in our personal lives.
This series was made possible by the kind support of MainStreet Partners, a London-based independent and dedicated sustainable investment advisor that provides ESG multi-asset and multi-manager portfolios and a range of holistic portfolio analytics tools including sustainability ratings and bespoke sustainability intelligence. It was also supported by Carbonado Partners, an industry expert in capital raising for all asset classes, that endeavors to provide thoughtful solutions that address emerging managers' perspectives and challenges.