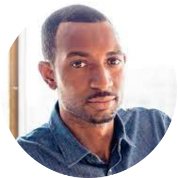 James Norman is CEO at Pilotly, a market research platform for creative content, based in the Bay Area. He is a Partner at Transparent Collective, a group of founders dedicated to increasing exposure and access to Silicon Valley for African-American and Latino/Hispanic men and women. He is a serial entrepreneur, who built his first company at the age of 16.
Our conversation traces James's exceptionally early entry into running his own business, which started with baseball cards and video games, then looks at the mindset that it takes to be an entrepreneur. We speak about his work at Pilotly, and the Transparent Collective, a group that provides not only incubator-type support but also social capital and fund-raising firepower to underrepresented founders.
In mid 2020 James wrote a powerful article in HBR, entitled "A VC's Guide to Investing in Black Founder", in which he set out the four key challenges they need to overcome:
1. Different Problems requiring Different Solutions
2. Different Surroundings, Different Resources
3. Different Culture, Different Communication
4. The Continuous Threat of Unconscious Bias
We discuss the ramifications of this for the next generation of founders, and how the right framework and capital can pave a way.
There is more information about Transparent Collective at: