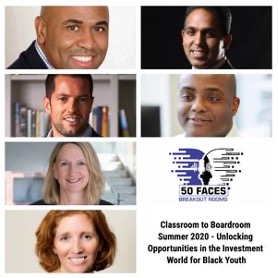 Welcome to our Breakout Room, which is the first spin off of The Fiftyfaces Podcast, a podcast committed to revealing the richness and diversity of the world of investment by focusing on its people, and their stories. The Fiftyfaces Breakout rooms series is a spin-off which will focus on specific topics, and sometimes feature panel-style discussions, sometimes documentary-style collaborations.
This collaboration with Classroom to Boardroom is the first such "breakout room," and we wish to thank the international business of Federated Hermes for their support of production costs. Today we are speaking with an esteemed panel of leaders in the asset management arena – what unites them is that they all participated in the inaugural Classroom to Boardroom event this past summer. Classroom to Boardroom is the brainchild of Derek Browne and Mitesh Sheth and was devised as a way to tackle under-representation of black talent in the investment industry. It was designed as a way for executives to "get out of their echo chamber" and hear directly from black youth about their perspectives, challenges they might face and maybe even identify talent. The panel in this Breakout Room consists of:
Derek Browne – Chief Executive – Entrepreneurs in Action
Mitesh Sheth – Chief Executive – Redington
Sally Nelson – Chief People Officer – Fidelity International
Robert Gardner – Director of Investments – St James's Place plc
Alex Hutton-Mills – Managing Director – Lincoln Pensions Ltd.