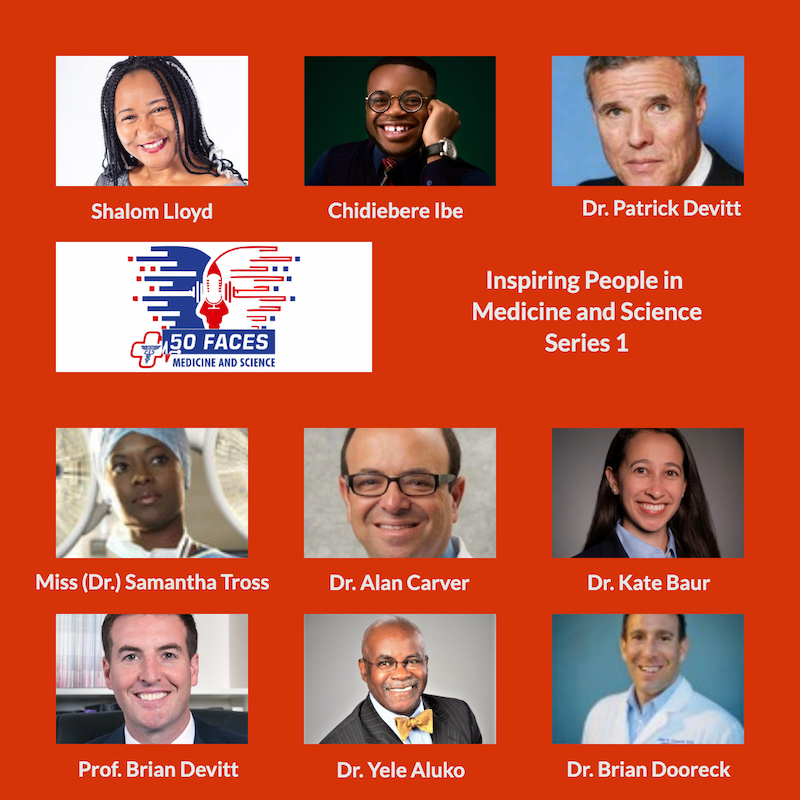 In this inaugural Fiftyfaces Focus Medicine and Science podcast series we dive into disciplines that are rich and multi-layered, hold the power to transform lives and outcomes but also suffer from underrepresentation, neglect and bias.
We first ask our diverse range of guests what it was that drew them to medicine or science, and find out what role "problem solving" plays.
We examine what sacrifices were made in the determination to follow a dream and what it takes to succeed as a practitioner as well as a patient.
The role of EQ, curiosity, self-advocacy and drive is noted. We look at a variety of specialties from psychiatry, to gastroenterology, to orthopedic surgery, cardiology and colo-rectal surgery and ask what advances excite the experts most.
We look at gut health, mental health, the increased holistic nature of medicine and where it is broken, and compare geographic areas.We hear about pioneering drug trials from Shalom Lloyd, whose firm eMQT addresses the massive disparity in drug trials on populations in Africa, and why this presents an opportunity for data gathering and learning.We hear about underrepresentation in medicine – from black medical students and practitioners, to LGBT professionals to women, and ask what can be done to resolve this.
There is a bias in how medical images are presented and Chidiebere Ibe, a renowned medical illustrator from Nigeria, shares how he bucked the trend here and produced an image of a black fetus in utero which subsequently went viral. Our Guests in Series 1 are:
Dr. Yele Aluko, who is Chief Medical Officer at EY, a role he has held for close to 4 years.
He is Co-Chair, Health Equity Advisory, at the international Well Building Institute, an Advisory Board Member at the Children's National Hospital and a Board Member at the Wake Forest University School of Business.
He has worked as a Cardiologist in hospital settings for over 30 years.
Dr. Kate Baur, who is a surgical resident in Ann Arbor, Michigan.
She has a particular interest in colo-rectal surgery, in particular as anal cancer is a cancer that has a higher incidence in populations such as the LGBTQ+ population. Dr. Alan Carver (interviewed by Maeve McQuillan), who is a neurologist at Memorial Sloan Kettering in New York City.
He has a particular interest in neurological complications of cancer and Its treatment; headache and pain medicine, end-of-life care and general neurology.
Professor Brian Devitt, who is a Consultant Orthopaedic Surgeon, Professor of Orthopaedics and Surgical Biomechanics at Dublin City University.
He studied medicine at University College Dublin and is a specialist in orthopedic sports medicine. He is also my brother and given that he has spent that last 8 years in Melbourne, Australia and we have only seen eachother a handful of times in this period, I was excited to sit down with him and touch base on his medical career and outlook.
Dr. Patrick Devitt, my father and co-host of the first series of Inspiring People in the Law.
He is a consultant psychiatrist in in Dublin, Ireland, and formerly spent time as Mental Health Inspector.
His area of specialty is Community psychiatry and Medico-legal psychiatry. He also has degrees in law and science.
Dr. Brian Dooreck, who is a Board Certified Gastroenterologist with a particular focus on private healthcare advocacy, life balance, and gut health. We met on Linked In when I became aware of his frequent health tips and his work within the private wealth community to promote ways to optimally navigate healthcare.
Chidiebere Ibe, who is a medical student and Forbes-Featured medical illustrator whose illustration of a black fetus in utero went viral in December 2021. Many commentators said that this was the first time that they had seen a depiction of a dark-skinned fetus or pregnant woman and provoked a discussion about the lack of representation of such images in textbooks and journals. Chidiebere has a bachelors degree in chemistry from the University of Uyo in Nigeria, and is the Chief Medical Illustrator at the Journal of Global Neurosurgery.
He holds numerous roles on various committees relating to medical education.
Shalom Lloyd, who after a career of over 20 years in the pharmaceutical industry has gone on to found two businesses – she is the founder of Naturally Tribal skincare, a beauty line based on traditional remedies including shea butter, which she developed initially to cure her son's eczema. She is also the co-founder and Chief Strategy Officer of eMQT, described as "the Bridge between the Pharmaceutical Industry and Africa" which facilitates clinical trials for pharmaceutical companies in Africa. She has been a keynote speaker on the topic of innovation and was a fellow of the Start-Up Leadership Program in London until 2020.
Miss (Dr.) Samantha Tross who is a consultant orthopaedic hip and knee surgeon, and she was the first Black female orthopaedic surgeon in the UK.
She is associate professor of orthopaedics at the American University of the Caribbean, a role she has held since 2010, and is Associate Editor of the Journal of Medical Case Reports. She is a Member of the Board of Trustees of the British Association of Black Surgeons, and the Secretary of the International Orthopaedic Diversity Alliance, which was set up to increase diversity within Orthopaedics. She has been a member of the Black Powerlist 100 since 2010.