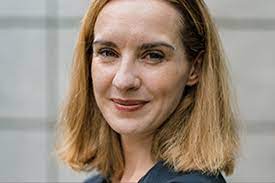 NEW
Charlotte O'Leary is Chief Executive Officer and Director of Pensions for Purpose, which exists as a bridge between asset managers, pension funds and their professional advisers, to encourage the flow of capital towards impact investment. She has had a long career in investment management, with a particular focus on pensions as well as ESG and impact investing. She is also a passionate participant in fitness competitions – particularly those organized under the Hyrox Brand.
Our conversation starts with Charlotte's upbringing, where her determination took root, and we chart her course into investing and ultimately Pensions for Purpose.  She describes the satisfaction she derives from this bridge between pension funds and their advisers and how it enables them to put their mission and purpose into action.
We move then to her passion for fitness, and talk about how this arose and how pushing her own physical limits drives her and the satisfaction she gains from the improvements that she sees every time she competes.
Series 2 of 2023 is kindly sponsored by Beach Point Capital Advisors, an investment manager that believes in investment beyond the traditional.  It specializes in credit investments and employs a flexible, value-oriented, risk-controlled focusing on complex and less well-followed opportunities.
You can find all of our podcasts on The Fiftyfaces Hub, Apple Podcasts, Spotify or wherever you get your podcasts.